The verb to be is the most important in English. It is everywhere, and we use it all the time.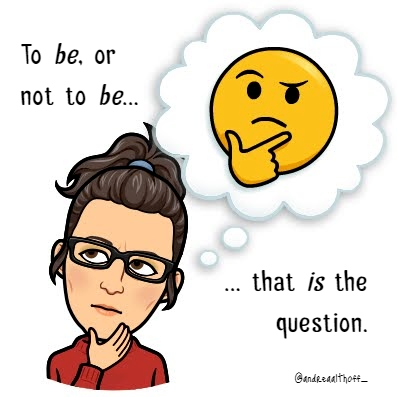 Do you know the sentence:
To be, or not to be – that is the question.
It's from Shakespeare's Hamlet. It's only 10 words long, and uses the verb to be three times.
In this simple lesson, we'll learn to talk about ourselves with "I'm" and talk about other people!
I am, I'm…", a common short form for "I" (the person speaking) and "am" (the verb). This short form is very common in spoken English. 💬
Hi, I'm Fred. Fred is saying his name using "I'm"
You're Jennifer, right?
How's Julia? – She's good!
He's James.
It's a bee.
We use "he" to refer to a man, 👨 "she" for a woman, 👩 and "it" to refer to one animal or object. 🐝📕 These words go with the verb "is".
Here's a tip
We can ask "How are you?" to one person 🚶‍♂️ and to multiple people. 🚶‍♂️🚶🏿‍♀️🚶🏼

"You" and "are" stay the same.
We use "they are" for a group of people. 🚶‍♂️🚶‍♂️🚶‍♂️ You might also see "they are" for just one person:🚶‍♂️

1️⃣ We can use "they" when we don't know someone's gender.
2️⃣ Some people choose to be "they" instead of "he" or "she".
Look at the table below – there are only three different forms of "to be". 🔍
| | | |
| --- | --- | --- |
| Person | Verb "to be" | Short form |
| I | am | I'm |
| you | are | you're |
| he | is | he's |
| she | is | she's |
| it | is | it's |
| we | are | we're |
| they | are | they're |
For extra practice, listen carefully to the video. Topics included in it are negatives with be and simple questions using be.
Now test how well you can use the verb to be!