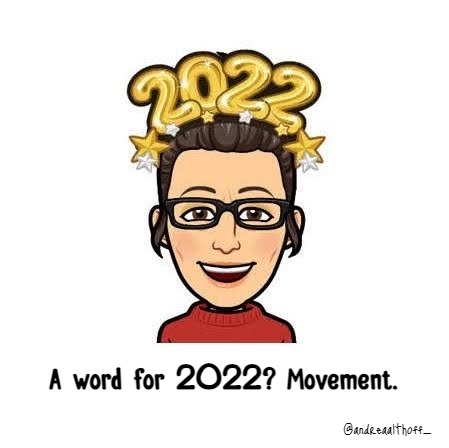 I believe that resiliency prevailed in 2021.
Instead of making New Year's resolutions that you probably won't keep, choose a word that can make a positive impact and help guide your decisions over the next year to reach your goals.
So, what word will you choose to guide you and give you focus in 2022?
In this video, January the first talks to us and shares a piece of advice.
And the word is movement.
Moving will help you get through the next 364 days with ease, she says.
Start the year doing that: moving. But not just the exercise kind of movement.
She means movement of the spirit, the soul, moving someone else's heart.
January the first advises us to move to find the inspiration to create, to invent.
When we're moving, there's no time for fear, for doubts, because it pushes us forward, it makes us stronger, wiser.
Take her word. Write it down somewhere and put it into action.
It will make every single day of your year count.
It's an inspirational message, but we can also learn the language we use in our day-to-day life. So here we go!
PIECE OF ADVICE
(Conselho) Advice is uncountable. We say a piece of advice (not 'an advice') and some advice (not 'some advices').
GET THROUGH​ something
(Lidar) To successfully deal with a problem or difficulty
I know we're going to get through the pandemic.
WITH EASE
(Com facilidade) Without difficulty, easily
They won the game with ease.
TAKE SOMEONE'S WORD
(Acreditar na palavra de alguém) To believe someone without needing proof or evidence
I've lost my sense of smell, so I'll have to take your word for any similarities to lavender in terms of scent.
WRITE (something) DOWN
(Anotar) To note, to scribble, to write (something); to put (something) to paper
I think I wrote it down wrong.
Now, what word will you choose to guide you and give you focus in 2022?
CONNECTION? It can mean a relationship or bond with another person, and it can also reference connecting with the present moment. 
CONTRIBUTION? It could mean an act or monetary donation, but it is about generosity.
CONFIDENCE? Focusing on what we are good at and what compliments our personality can help us achieve goals and boost confidence. We learn what we can do and when we need to ask for help.
OR MAYBE YES? A simple word, but it can have a strong impact.
My wish for you is to go forward and make a difference in anything that you choose to do. 😉